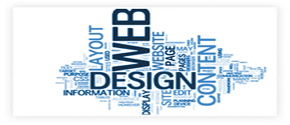 Maymorn Solutions offer innovative, winning web design services.
Maymorn Solutions offers high quality web designs to improve your online appeal of professionalism. Our web design team takes great care in servicing your requests and ideas while using our knowledge and experience to create a perfect overall web design.

All our works are designed in a manner to give people the most accessible and usable designs that are completely devised according to the web standards using CSS and search engine visibility.

Customised User Friendly Website Design Solution is our primary focus area. Understanding of user point of view is the essential and correct approach to deliver solution which will be globally accepted.. Before we proceed with designing, we keep customers usability behaviour at priority while designing a website. It is very critical to keep in mind the importance of identifying the target viewer and thereby optimising for usability and desirability. We develop the website that is easy to navigate and user friendly so that your customers keep coming back.

It is very important for your website to have all the pre-requisites to get good ranking. It must have a vision for your target audience. Our efficient web design and development services consistently ensure precisely that and your website is developed in a way that it is always there amongst the prominent listings of the best. We nourish your website and help it to gain popularity with looks and ranking simultaneously.

We understand the value of each of our clients and always work towards a mutually rewarding solution to build up a long lasting relationship. Our commitments to our clients are realistic and practical.

All websites created by Maymorn Solutions come standard with the following key features:


High Quality Web Design - An aesthetically pleasing site that compliments your company's products or services.
User Friendly Website - An easy to use website with simple navigation structure.
W3 Compliant CSS & XHTML - Cross browser compatibility for all common browsers. (Example: Internet Explorer, Firefox, Opera, Safari, Chrome, etc.)
Contact or Feedback Form - Contact form that sends you the information via email.
Site Map - A sitemap provides an organized list of all the links on your website. (Good for visitors and search engines)
Onsite SEO - Keyword orientated website structure to help your search engine rankings.
Google Analytics - We'll install Google analytics so you can track your website traffic and reports.
User Manual and Video Training Tutorials - This will include everything you need to know to manage your new website content, users, and permissions.